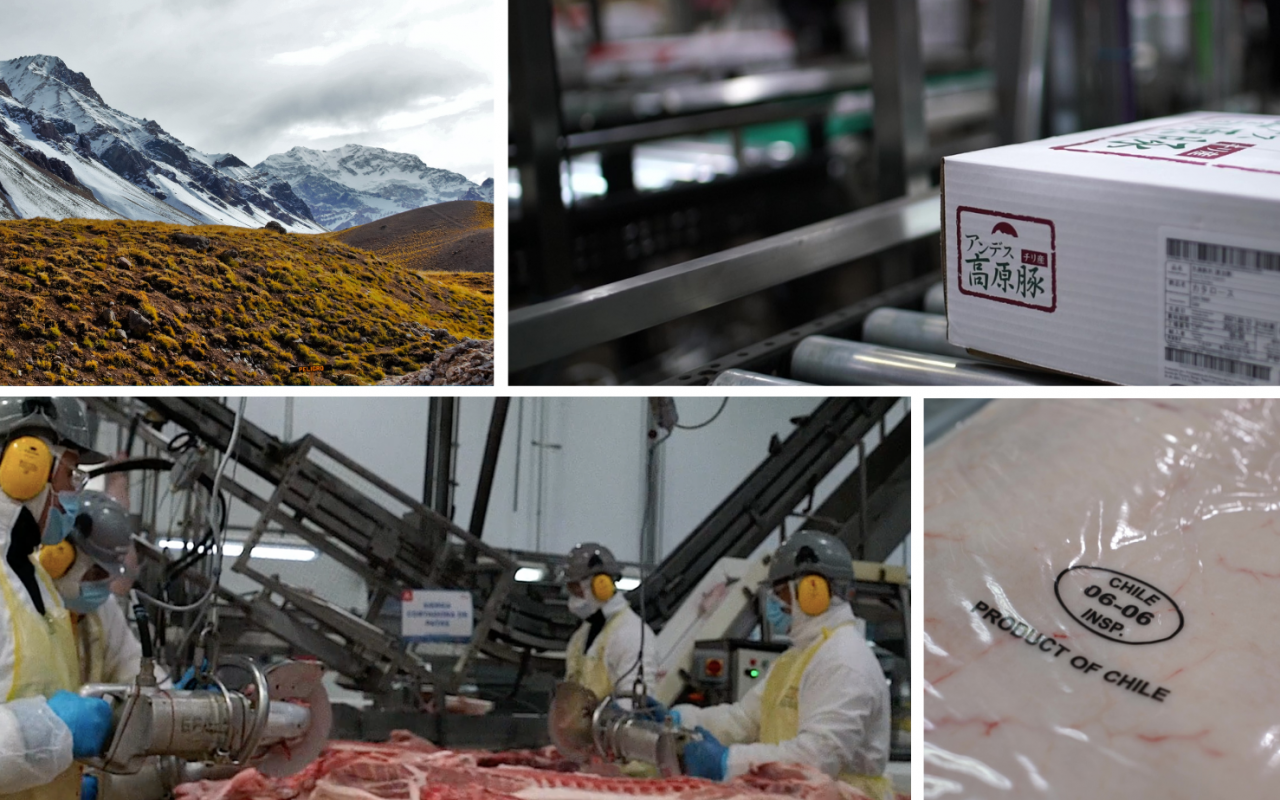 Chilean pork: produced under the highest standards of food safety, health, biosecurity, and sustainability
March 6, 2023
Chile is a trusted supplier of healthy and safe foods that delight markets around the world. This long and narrow country at the tip of South America, with only 19 million people, opened to the world three decades ago and has claimed an important place on the podium of food producing and exporting countries. Chile's […]
Chile is a trusted supplier of healthy and safe foods that delight markets around the world. This long and narrow country at the tip of South America, with only 19 million people, opened to the world three decades ago and has claimed an important place on the podium of food producing and exporting countries.
Chile's market is highly competitive, and both the public and the private sectors have worked together to make it an agri-food export power. Today, the agri-food industry is the second most important in the country after mining, and it is focused on the ongoing optimization of its production processes while investing in biosecurity, food safety, innovation, and development.
Internationally, Chile is well-known for its many advantages: being an island of agricultural health surrounded by natural geographical barriers (the Atacama Desert, the Pacific Ocean, the Andes Mountains, and ancient Patagonian ice) that protect it from pests and diseases; its temperate Mediterranean climate, ideal for the production of premium raw materials; and its staggered production, counter-seasonal to the Northern Hemisphere. The country also offers economic stability, up-to-date exporting infrastructure and logistics, cutting-edge technology in the production and processing of various products, and compliance with strict international standards and certifications.
In addition, Chile has an extensive network of free trade agreements with the world's leading economies: 33 trade agreements in force with 65 economies that represent 65% of the world's population and more than 87% of global GDP. Built over the last three decades, this open-market trade policy has been decisive for Chile's food offer to successfully penetrate international markets. Hence, Chilean food exports have grown steadily over time, reaching 21.5 billion USD in 2022 with 11% growth year-over-year.
Currently, the leading agri-food sector in Chile is fruit, followed by salmon, wine, and meat in fourth place. Pork is the most exported meat with 59% of the total.
The Chilean pork industry: a model for food safety, health, biosecurity, and sustainability
Since its beginnings, the Chilean pork industry has followed a strategy based on: producing under the highest standards of health, food safety, and biosecurity to offer top quality products; working together with Chilean officials to provide safe products to consumers in Chile and abroad; preserving and deepening economic agreements with third countries to access international markets under favorable conditions and stay competitive against competing countries; and lastly, continuing to grow a top quality, sustainable meat production and exporting industry that helps the country and its people thrive.
It should be noted that each exporting company has control over their entire production chain, from feed-producing plants, animal production areas, slaughterhouses and all their related processes, to logistics and trading of every product to reach customers and consumers with 100% traceable, healthy, and safe food under unique quality standards.

The Chilean pork industry is also sustainable, building its growth on a circular economy. It has invested in the acquisition and adaptation of cutting-edge technologies to keep growing its production without affecting natural resources. In addition, the pork sector has its first sustainability standard, which aligns its metrics and indicators to the UN's 17 Sustainable Development Goals (SDGs) for 2030. The standard is already available for companies wanting to certify their products under the Chile Conscious Origin name (www.chileorigenconsciente.cl).
In terms of exports, in 2022 Chile exported 398,000 tons cwe of pork and 644 million USD, with Asia being its primary destination with 77% of the total value.
ChilePork
ChilePork is the sector brand that brings together all pork exporting companies in Chile. It was created to position Chilean pork in Asian markets.
ChilePork was launched with a campaign in Japan in 2007 and another in South Korea in 2008. Today, Chile is consolidated in both countries as a relevant pork supplier, in sixth and fifth place, respectively. In 2012, the campaign landed in China, where Chile currently holds the eighth place.
"Over the years, ChilePork companies have managed to position a diverse product mix adapted to the various destination markets. In Japan and South Korea, consumers prefer high-value Chilean pork cuts such as loin, belly, shoulder, tenderloin, and ribs; while in China they prefer head, short front feet, shanks, tail, and bones. In 2021, Chilean companies began exporting pork to the Philippines with the challenge of introducing the quality, versatility, and flavor of its various cuts to its consumers. In 2022, the ChilePork brand was launched in the Philippine market to consolidate our position," explains Juan Carlos Domínguez, President of ChileCarne, the association that represents ChilePork.