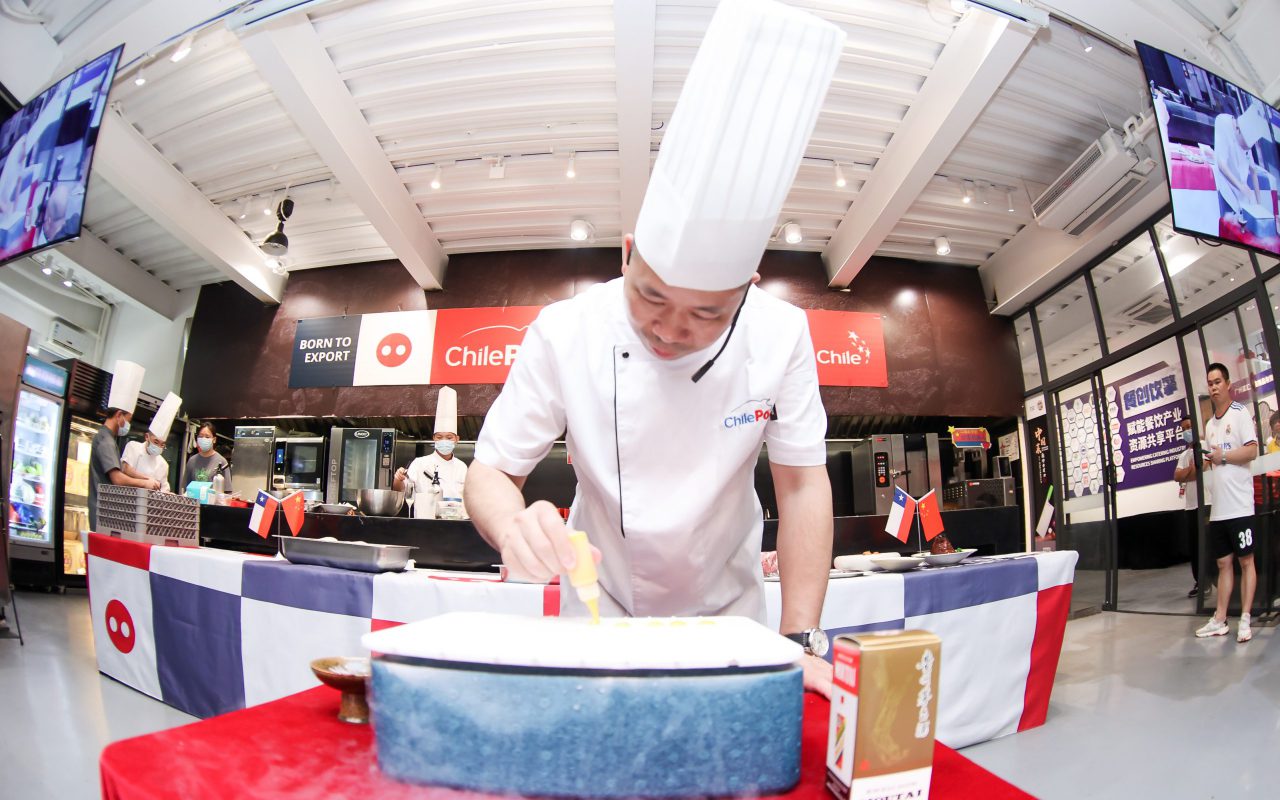 Successful first ChilePork cooking master class in Guangzhou, China
July 18, 2022
The master class was intended to help Chilean pork penetrate new big cities in China. Guangzhou is a port city in southern China with more than 15 million people. 14 executive chefs and 6 buyers from the foodservice channel attended the event. Every year, China's immense cities continue to increase their demand for protein from […]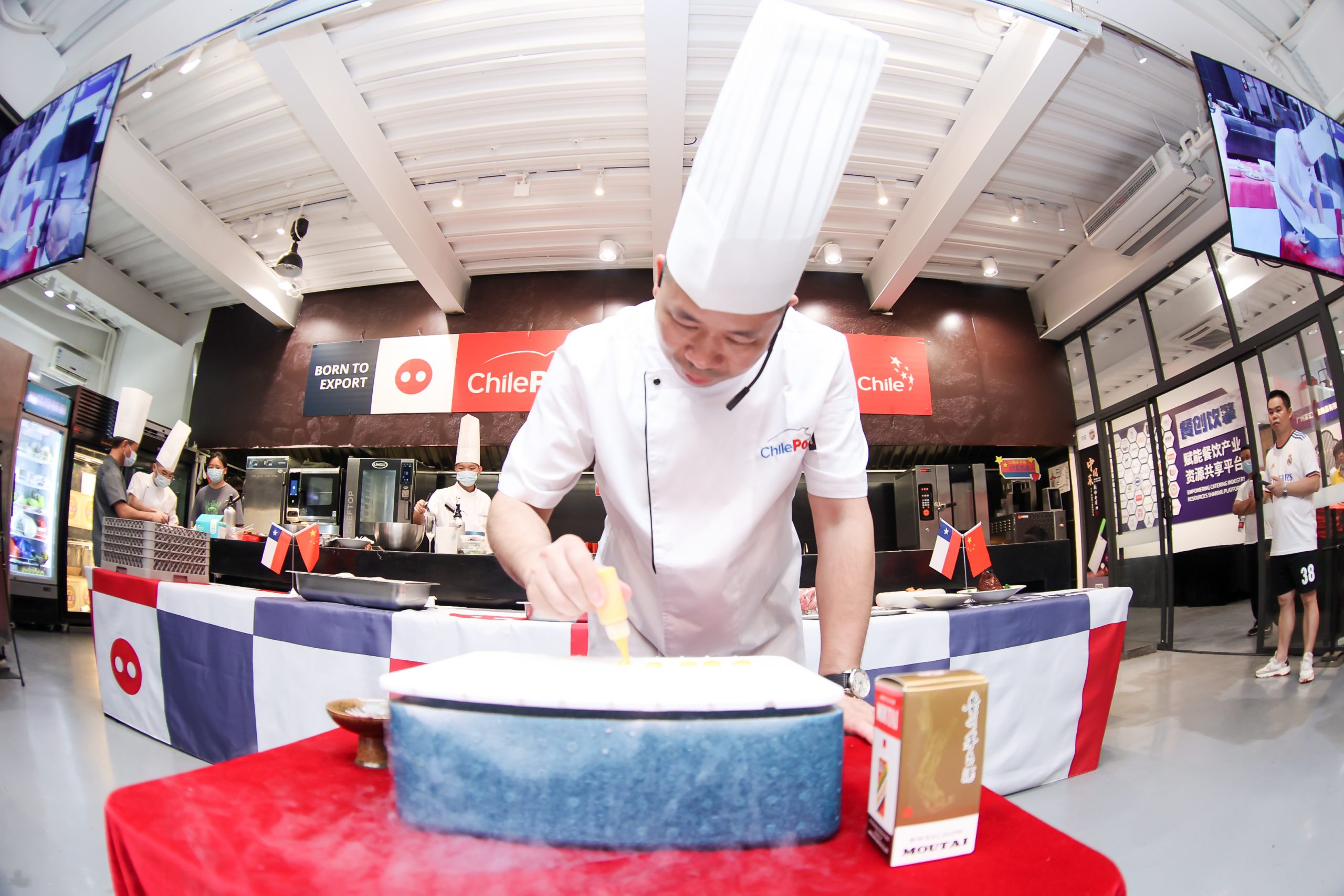 The master class was intended to help Chilean pork penetrate new big cities in China. Guangzhou is a port city in southern China with more than 15 million people. 14 executive chefs and 6 buyers from the foodservice channel attended the event.
Every year, China's immense cities continue to increase their demand for protein from various countries, posing a major challenge for Chilean pork to diversify its Chinese destinations markets. That is why on July 18 a cooking master class was held in the city of Guangzhou to showcase the qualities and attributes of Chilean pork. It was headed by chef Tan Guohui, who holds a Master in International Culinary Arts and is the executive chef at the Grand International and Conrad hotels in Guangzhou, among other relevant roles in China's culinary sector.
The class was attended by 14 executive chefs from Guangzhou's most prestigious hotels and restaurants, 6 influential buyers from the foodservice channel, joined by representatives from ChilePork and ProChile, the Chilean Exports Promotion Bureau that was represented by the Commercial Director in Guangzhou, Santiago Lecaros.
"Events like this one are particularly beneficial in China's current situation. The challenges of organizing these events and the low presence of foreigners can hinder the position of our products in the local market, which is why taking advantage of every opportunity to introduce them is key to maintain our place in the Chinese meat market. A cooking master class is also an excellent format, as it allows to showcase Chilean pork's versatility and adaptability to local recipes, reaching the main buyers," said Lecaros.
At the event, three main courses were prepared using Chilean pork collar, belly, and trotters. The first recipe was sweet and sour pork with pineapple smoothie, a Cantonese dish especially appropriate for the summer; it was followed by signature creamy pork, crispy but tender inside; and finally braised round trotters with gold and black garlic, a mild and savory dish.
All the recipes prepared by chef Guohui featured Chilean pork exported by ChilePork. After the master class, the chef said: "In my experience, Chilean pork is tender, tasty, and easy to enjoy. I would highlight the pork collar, belly, and trotters with skin, as each one of these cuts has its particular features. Chilean loin is smooth and fibrous, with a thin uniform layer of fat, similar to belly but not as fatty, and richer than loin (…) Whereas the pork belly is slightly oily but not fatty, and it has a touch of gentle sweetness. These characteristics made me go for the signature creamy pork, a recipe that enhances these features. Finally, the trotters have a soft texture and fine meat. I braised the pork trotters to enhance their mellow and smooth flavor."
Talking about the preferences of Chinese consumers, the chef said: "In my opinion, they will want to try Chilean pork loin and belly, as these cuts are easy for a regular Chinese family to prepare (…) Pork loin can be used for barbecues, stir-fries, soup, minced meat hamburgers, sweet and sour pork, and other dishes. The options and combinations are extensive. Belly can be used for char siu, sautéed with black beans and peppers, and various other recipes."
"With events like the cooking master class, we seek to preserve and deepen the good relationship we have historically had with China. The successful reception of Chilean pork today is the result of our efforts to position Chile as a reliable partner that stands out for following high standards of quality, safety, and biosecurity, plus the adoption of sustainable production processes. That is why we will continue carrying out initiatives to feature Chile and the quality of our pork," said Juan Carlos Domínguez, President of ChilePork.
Similarly, talking about ProChile's actions to strengthen and promote Chile's image abroad, Santiago Lecaros commented: "Currently, we are organizing a 'Museum of Flavors' as part of the 'Flavors from the Edge of the World' exhibition that will bring together over 25 food producers and their products, which will then be served at a dinner for importers and representatives of food product associations to taste Chilean products adapted to Chinese cuisine. We expect about 250 visitors to the exhibition and 80 business owners at the dinner. The exhibition will feature Chilean wine, fresh fruit, dairy products, honey, seafood, and products with added value such as pasta, juice, kids' food, and others, including meat, of course."
Check out the event at: https://youtu.be/bzXvTtL_uFE