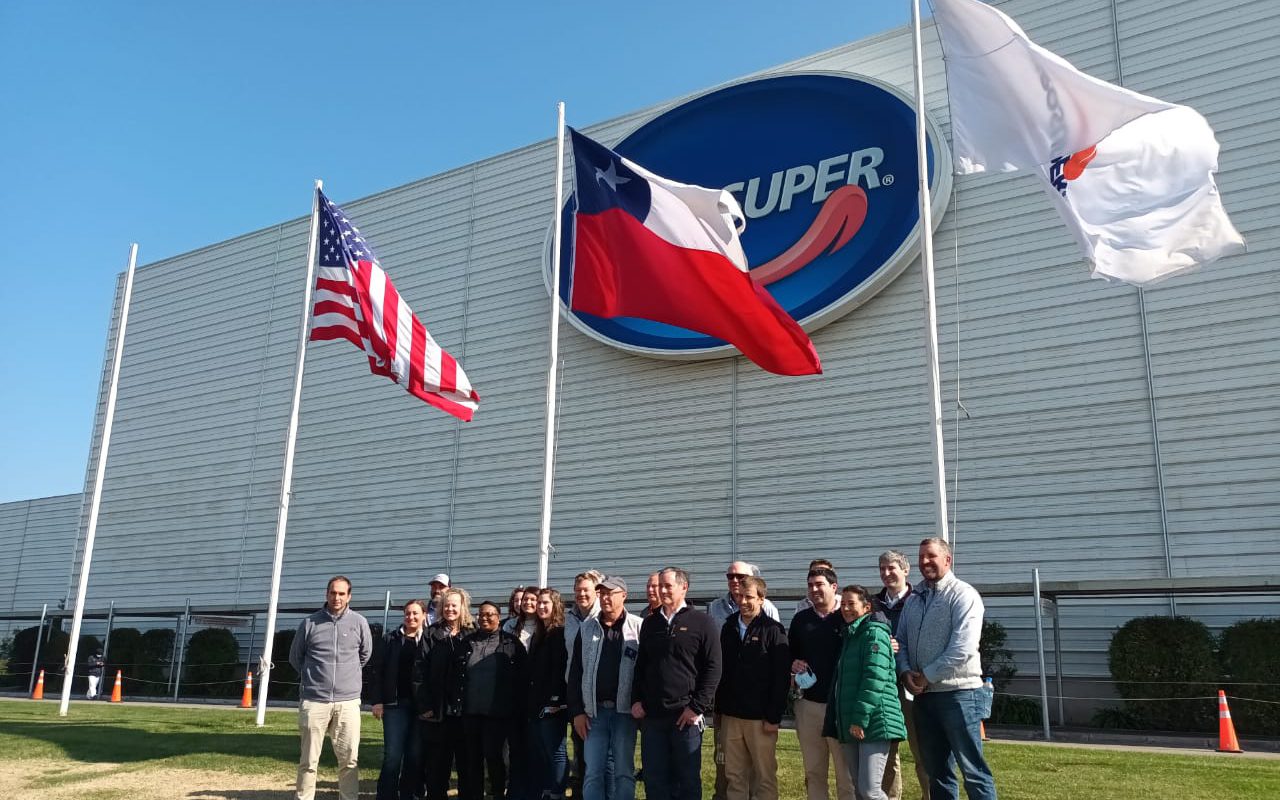 US pork producers and exporters visit Chile to learn about its pork industry
August 20, 2022
Held on August 4, the meeting was an opportunity to exchange experiences and best practices from both countries. Representatives of the National Pork Producers Council, the National Pork Board, and the U.S. Meat Export Federation visited Agrosuper's headquarters and slaughter plant in Rosario (O'Higgins Region) to learn more about the Chilean pork industry production process. […]
Held on August 4, the meeting was an opportunity to exchange experiences and best practices from both countries.
Representatives of the National Pork Producers Council, the National Pork Board, and the U.S. Meat Export Federation visited Agrosuper's headquarters and slaughter plant in Rosario (O'Higgins Region) to learn more about the Chilean pork industry production process.
The tour began with a presentation from Juan Carlos Domínguez, President of ChileCarne, about the industry's figures, main assets, and challenges, followed by a presentation from Nicolás Donoso, Agrosuper's Business Manager, which focused on the company's trade strategy.
"These visits allow us to show our facilities, our business model, the vertical integration in Agrosuper's production, Chile's reliability, and everything that makes us a relevant actor in the global market. Although their goal is to sell their production in Chile, we also showed them what we have done in the domestic market in distribution, brands, management, and market share, as well as exports and international sales, all elements that make us one of the most productive and high-performing companies worldwide," said John Luer, Agrosuper's International Sales Manager.
Juan Carlos Domínguez, representing the Chilean pork industry, added: "It is great for this high-level delegation to come back to meet Agrosuper and the Chilean pork industry. They first visited us in March 2020, just before the pandemic started, and now, for their first trip abroad, they decided to return to Chile. They recognize the work we have done in exports over the past 30 years, and Agrosuper's 70-year experience, which is remarkable and replicable."
"We are very pleased to visit Agrosuper, one of the industry leaders worldwide. Our friends and also competitors in international leagues. We joined this visit from US pork producers to discuss common issues; how to convey the value of pork, inform those who still don't know about pork production areas, how up-to-date they are, the technology and professionalism behind the production chain, and that is what unites us at the global level," said Jessica Julca, South America Manager of the US Meat Export Federation.
The visit was also an opportunity for Agrosuper to exchange research and market information, obtaining valuable information about the expected trends both in production and exports. Julca added: "We all want to be recognized as leading producers, for people to understand what is behind our production chain, and for the work needed to offer high-quality protein to consumers to be appreciated. That is our global goal, alongside producers, so we thank Agrosuper for the opportunity to meet their international sales team, production and plant workers, their facilities, and we also extend an invitation to visit us in the United States."